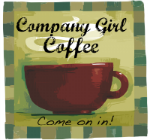 It's Friday! Time for another Company Girl Coffee. I've got a nice mug of green/white/peach tea (it's REALLY GOOD, I promise) and there's snow on the ground and the dogs are going crazy. A proper Denver morning in February, if you ask me.
Eli says a proper morning begins at 10am, no more of this 5am business.
This has been kind of an interesting week, what with Lent beginning and all. Brian has been ordained for all of 3.5 months and on Tuesday he went and got himself his first collared clergy shirt to wear to the Ash Wednesday service. YOW. I'm still getting used to this Pastor's Wife (PW) thing, but seeing him in the same shirt the 4 (four!) pastors at my home church wore every single day was a little...odd.
I've thought more about Lent this year than I have in years past. Growing up, I went to a Lutheran church that wasn't exactly oppressive, but very steeped in doctrine and kind of strong-willed in a socially conservative way. In other words, there was a definite right and wrong way to live. And one of the right things to do was give up something - something significant - for Lent. You weren't bad if you opted out, but you were very very good if you opted in. The problem was, I don't remember receiving much info on why we were making a sacrifice. I got that Jesus fasted for 40 days (and the guy who actually fasted for Lent became a small-time celebrity of sorts) so we should give up something too, but I didn't learn much beyond that. Lent in my childhood was essentially a competition to see who could 'give up' the best.
It should be no surprise, then, to learn that when I went to college (and started going to a very different kind of church) I never really 'did' Lent. Now, at age 26, I am finally a part of a doctrine-oriented church again, and I have come back to the practice of Lent. I hope to learn more about this part of our spiritual journey - really experience it the way we are intended. If you know of any great reads on Lent, or fasting in general, I would love to hear them in the comments!
We have had an extraordinarily busy week for us, with meetings and activities every night Sunday-Thursday...and then watching the Olympics after that keeps us up even later. (We don't have a DVR.) I am tired; Brian is exhausted.
Rory says sleep is for the weak and that she would much rather be chewing on this blanket here. Because that's what is supposed to be going on at 6am on a Friday.
A couple knitting updates:
I realized sometime in the past week that the fun stripey socks I'd begun required more yarn than I had for the project. So...I've finished one of those and I have found some more of the yarn second-hand (it's discontinued). I'm hoping to get that yarn before the end of Feb, so I can finish up this second sock and have some fun new foot-sweaters.
In the meantime, I decided to start a shawl I've had my eye on for many months. It's more or less a triangle shape, knitted in three 'stages' of sorts. I've finished the first stage and I'm in the transition part to the second stage. This is my first real actual lace project with real actual lace-sized yarn. I'm pretty stoked about it. I might be able to finish by the end of the month, but it might take me a little longer than that. We'll see.
Beginning stages of lace. It's much bigger now.
So tell me, what are you up to this weekend?