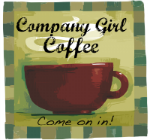 Click the logo to pay along!
Oh dear. Is it Friday already?
Then again, what am I talking about? I have been up for
hours
.
Rory
decided that today would be the perfect day to get up at 4:30.
Four thirty
. In the
morning
. Despite my best 'let's be sleeping' campaign, she proceeded undeterred. And in border collie language,
undeterred
is best translated as
barking one's fool head off until one gets what one desires
.
In this case, 'one' desired a romp or two outside. (
At 4:30am. In the 20 degree icy weather
.)
Have I mentioned that we live in an apartment?
So wait. It's Friday? Ok, fine.
I believe you.
Maybe I should make some tea. With honey. Honey makes everything better, am I right?
So what's been going on with you this week?
I have nearly nothing to report. Much to no one's surprise, I have been sick again. Being sick is SO lame. I have a doctor appointment today to figure out why the heck I have been sick on and off with the same thing since approximately November 10 (
the day we arrived in Colorado
). If he tells me to get plenty of rest and drink lots of fluids and run the humidifier, I might cry. Because I've been doing that, and I'm still getting sick.
I did manage to find my sewing box, which means I've been working on a couple of small projects that I should have finished...oh...last summer (
Hello, Kim!
). And I made some good headway on the quilt I started last fall (
my first quilt!
). For those of you who are curious, it's a 9-patch of batik prints. No sashing. Just chaos, colorful chaos. It was inspired by my love of batiks, a stack of 20 or so fat quarters of batik prints that I'd received as gift (
thanks again, Cathy!
), and the chaos that was my life last fall. I probably won't get photos until it's finished and we can go outside. Anything else wouldn't do these prints justice!
Ok, now that my brain has turned on, I can get to the think-y part of what I wanted to share today.
Last week I posted about Lent and how I don't have a good understanding of it. Since then, I've found a few interesting reads online. I'll share those with you here, because a few folks expressed interest in learning more about Lent:
Katie at
Kitchen Stewardship
had a really interesting thought on
Solemnity
and Lent.
Ann Voskamp at
A Holy Experience
(
if you are a Christian and you don't read this blog, I would highly recommend you DO
) has had some interesting posts about Lent. See
here
,
here
and
here
. The last link contains a suggested reading list for Lent.
Elizabeth Esther
wrote
here
on fasting and its significance, and why she practices Lent.
And our very own Coffee Girl,
Cari
, offered me
this link
on one man's thoughts on some "less traditional" Christians coming back to the practice of Lent - in short, I agree with him that it is a very good thing.
If you've come across any other blog posts about Lent or fasting or anything related, I would love it if you shared with me!
Now I'd like to ask something of you. Compliance is optional! But if you don't mind, would you say a prayer for my husband today? Part of his new job entails putting together a new, third service. The church staff, along that line, thought it would be good to hold a (new) Wednesday night service during Lent, to sort of 'test the water' so to speak. And Brian has been putting these services together. The first service, on Ash Wednesday, went well and was very well-received. This week's service didn't go as well. In short, he is feeling discouraged right now, and he is
tired
. I'm not complaining and neither is he. He's just feeling very discouraged and dealing with pressure and frustration right now.
No photos this week, because I'm cranky and I don't feel like messing with them :) BUT, to make it up to you, here's a video of the dogs - and Rory's enormous grown-up teeth in her tiny baby mouth!