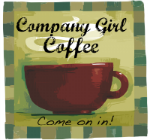 I've had a pretty good week this week. I started getting up early, I went to my church's knitting group for the first time (and it was AWESOME) and I stuck pretty well to my housekeeping schedule from last week. I am so grateful to be able to be at home right now, and be able to focus on building some web business and raise the

kids

dogs.
SPEAKING of business and dogs...
Rory, the toilet paper monster of doom, has been much much MUCH easier to deal with this week. She and Eli have been zonking from about 8am to 11am and again from about 1pm to 3pm every day this week. I am beside myself with joy for all those hours I'm getting back. I have hit the web design hard the past couple of days, and if the trend continues, the site will go live next week. I am so stoked. And SO ready to be contributing actual monetary value to the bottom line again (although I racked up about $75 worth of ebay and half.com sales this week)! AND, I've been able to make good headway on a volunteer project I committed to doing back in November, in the days immediately preceding our acquisition of the puppy.
The socks I mentioned last week are coming along, though not as quickly as I would like. I've finished the foot (the part from the base of the toes to where the front of your leg meets the top of your foot) of one and am almost finished with the foot of the other - which puts me close to the half-way point. I'd like to get this and the other pair in the mail to Holly by this time next week. I can't post pictures yet, because they are a surprise! But I will post as soon as they arrive. If you are really super interested in seeing some things I've knitted, you can check out any post with the knitting tag (or click here). There's at least one photo of a completed pair of socks in there.
So that's my

life these days

week. Dogs, website, knitting, housework. Maybe next week I'll get to some fun things like decorating the mantle and hanging artwork!
That's all for me. How was your week? What have you been up to? Any big projects just itching to be completed and then unveiled??