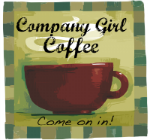 Happy Friday, everybody. Is it just me, or is Friday feeling particularly good today?
It's probably just me.
I'd like to offer a special welcome to any Company Girls visiting today. If you don't know what Company Girls are and you'd like to know more, you can click on the button up top and learn more. Basically we're a group of women who gather each Friday to talk about what's going on in our lives and share with each other. It's pretty rad, if you ask me.
This week has been kind of a weird one for me. I've been on antibiotics for about a week now. This is - as far as I can remember - the first time I've been on antibiotics in many years, and I have to say, I am not convinced. Next time I feel a need for the drugs I am probably going to turn to holistic methods. I feel like my general condition has worsened rather than improved. Yes, my sinus infection is mostly clear, and yes, my ear infection appears to be gone. But the exhaustion, the inability to sleep, the dryness in my mouth and throat, the brain-fog, and a couple of other 'fun' side effects have made this a negative, rather than positive, experience. There's got to be a better way to clear an infection. I'm thinking massive doses of garlic.
Happily, though, I woke up this morning feeling much better than I have in a while. So here's hoping that the month of sickness has passed, never to return.
Despite being sick, I've had a pretty good week. Not much knitting has happened, but those days will be returning shortly. Remember the socks I was working on a couple of weeks ago? You know, the ones I ran of yarn while making? Well, yesterday the extra yarn I'd ordered showed up. I am a pretty strict 'knitting monogamist' which might dictate that I finish my shawl before I finish the socks, but I am considering putting aside the shawl in lieu of having a new pair of squishy warm fun colorful socks. I mean, who wouldn't?
In other news, I have made progress inside my head and inside my home. You can read more about that, and see a small pocket makeover, here. Bit by bit, my home is starting to look like actual grown-ups live in it!
Speaking of grown-ups...Brian posted a funny comic as his Facebook profile picture. I think it's hilarious. See for yourself:
In case you couldn't tell, I handle the finances in our little family. Fine by me - I like to know what's going on, and he would rather just help with goal-setting and know what he can and can't do. I am in the beginning stages of working some hard numbers for our home-buying plan. If you have any pointers, let me know! And no, we will not be buying a home with the 8,000 tax credit ending April 30. We just aren't there yet, financially.
I also managed to get my
etsy shop
back up and running. I'd love it if you took a look and let me know your thoughts. Y'all know I love knitting - so if you've got something in mind, I'm your gal!
That's it from me, for now. Did anything exciting happen to you this week?